A dozen Wayne Community College students are ready to tackle the Federal Aviation Administration Airframe Mechanic exam.
The Aviation Systems Technology students completed all requirements and were awarded Airframe certificates authorizing them to sit for the FAA Airframe Mechanic written exam.
They are Philip Allen, Robert Dillon, Charles Fishel, John Forney, Ibrahim Lagueb, Bradley List, Chedrack Makoumbou, Marcos Neira-Nieda, Thomas Richardson, Scott Sheck, Jesse Sykes, and Ivan Villa-Higuera.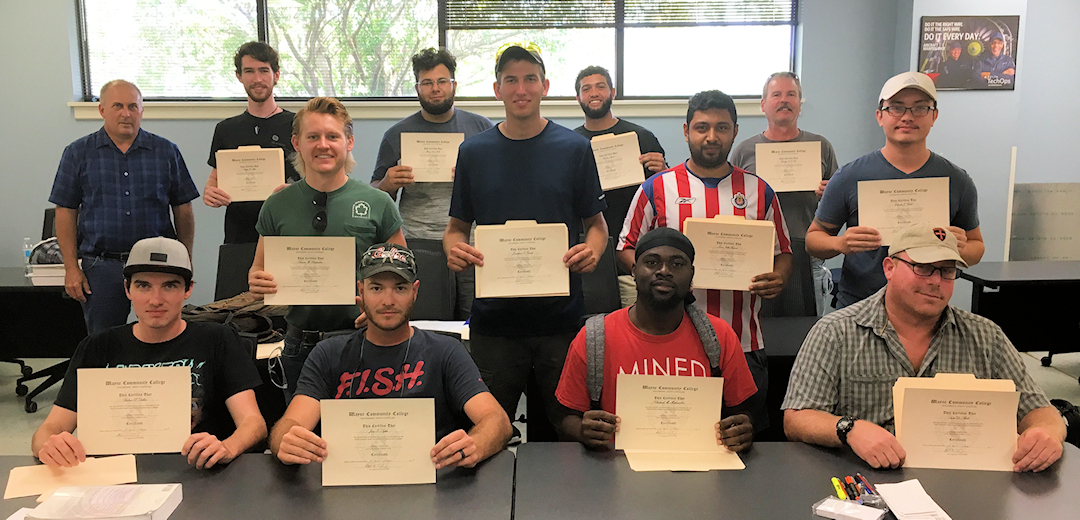 Only those who have proof of experience, which the college's certificate provides, may take the exam. WCC is one of 170 FAA-certified Aviation Maintenance Technician Schools in the country.
"Upon passing the written exam, they will be able to take the oral and practical exams," explained Aviation Systems Technology Instructor Mike Crumpler. "Once they successfully pass that experience, they will be issued a temporary Airframe certificate so that they may exercise their new privileges until their permanent cards arrive."
WCC's Aviation Systems Technology program provides the knowledge and skills for students to qualify for an aircraft mechanic's certificate with airframe and/or powerplant ratings. It offers an Aviation Systems Technology Degree, Aviation Systems Technology Airframe Diploma, and Aviation Systems Technology Power Plant Diploma.
For more information, potential participants can contact Crumpler at 919-739-6824 or smcrumpler@waynecc.edu, or Mark Peeples at 919-739-6823 or mspeeples@waynecc.edu.
Wayne Community College is a public, learning-centered institution with an open-door admission policy located in Goldsboro, N.C. As it works to develop a highly skilled and competitive workforce, the college serves 11,000 individuals annually as well as businesses, industry, and community organizations with high quality, affordable, accessible learning opportunities, including more than 140 college credit programs. WCC's mission is to meet the educational, training, and cultural needs of the communities it serves.
Follow WCC on Facebook (also @WayneCCNewsandViews), Twitter, and Instagram.