For the second year in a row, Wayne Community College is a National Council for Marketing & Public Relations (NCMPR) Paragon Award winner.
The college won gold in the Interior Signage/Display – Single or Series Category is for the multi-panel timeline in the Wayne Learning Center Atrium and silver in the Outdoor Media: Single or Series Category for its "Day, Night, Online, Now" billboard. (See photos of winning pieces below.)
The Paragon Awards recognize outstanding achievement in design and communication at community and technical colleges. They were presented at the organization's 2018 annual conference in Las Vegas on March 18.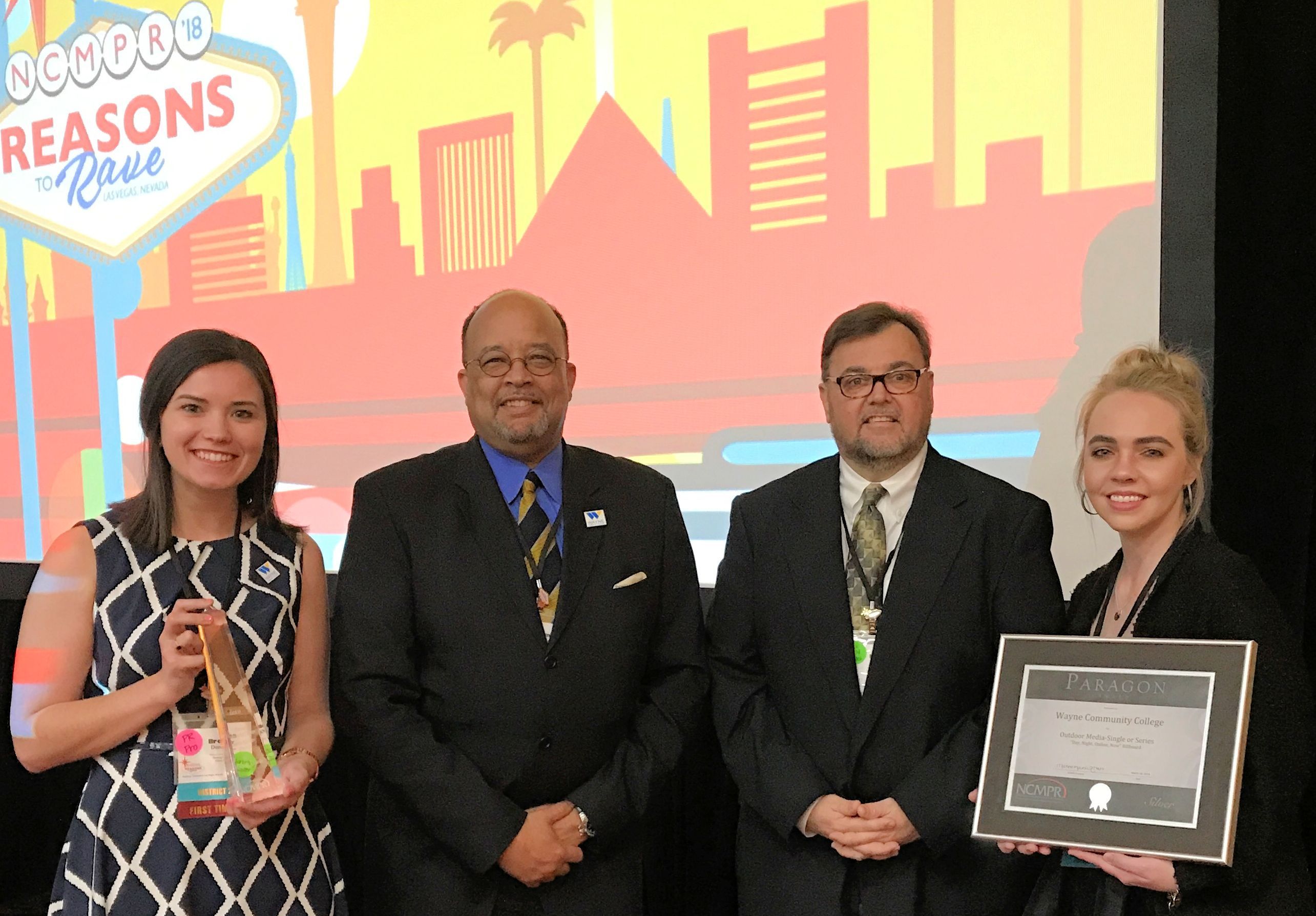 WCC beat out Elgin Community College in Illinois and Palo Alto College in Texas, which were given the silver and bronze awards, respectively, for their entries in the interior signage category.
In the outdoor media category, the recipient of the gold was California Community College and bronze went to San Antonio College in Texas.
Other North Carolina community colleges earning 2017 Paragon Awards were Cape Fear (gold in radio ad series and silver in class schedule), Randolph (silver in magazine), and Wake Technical (gold in single print ad and bronze in electronic catalog, schedule, viewbook or annual report).
Last year WCC garnered a gold award in the video shorts category for its "LookUpWCC" promotional video.
NCMPR is an organization for two-year college communicators that provides professional development opportunities, information on emerging marketing and PR trends, and connections to a network of more than 1,700 colleagues across the country. NCMPR is an affiliate council of the American Association of Community Colleges.
Wayne Community College is a public, learning-centered institution with an open-door admission policy located in Goldsboro, N.C. As it works to develop a highly skilled and competitive workforce, the college serves 13,000 individuals annually as well as businesses, industry, and community organizations with high quality, affordable, accessible learning opportunities, including more than 70 college credit programs. WCC's mission is to meet the educational, training, and cultural needs of the communities it serves.
Follow WCC on Facebook, Twitter, and Instagram.