Wayne Community College is planning its grandest Winter Fine Arts Festival ever.
Set for the evening of Thursday, Dec. 6, the event will begin with an art exhibition that opens at 6 p.m. in the Wayne Learning Center Atrium.
Musical entertainment will be provided by fine arts students while guests peruse more than 110 drawings, paintings, and sculptures produced throughout the fall semester by students in the college's Drawing 1, Drawing 2, Painting 1, Painting 2, and Design classes.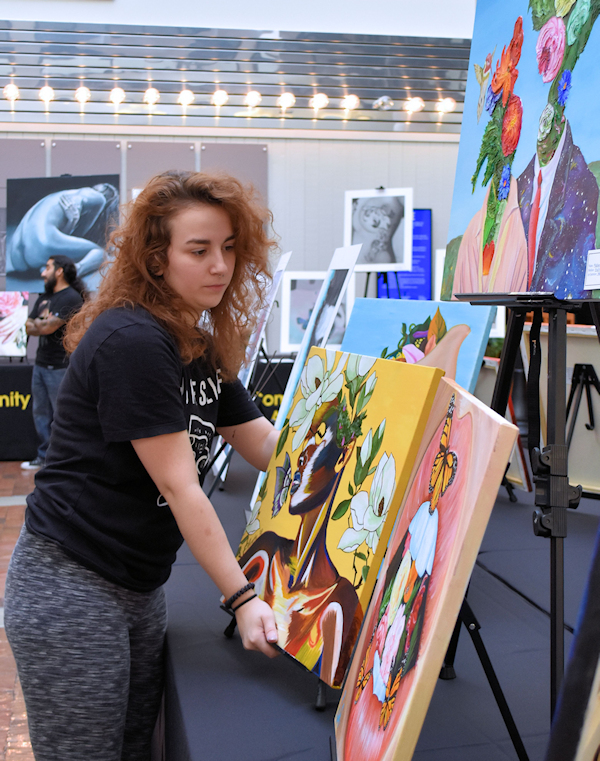 "I encourage everyone to come see the incredible talent that Wayne Community College has on its campus," said Art Instructor Angie Waller. "I guarantee that you will not be disappointed."
A holiday music show with performances by the college's chorus, class ensembles, and individuals, plus the Studio 33 Dance Company, will start at 7 p.m. in Moffatt Auditorium in the Wayne Learning Center.
Music Instructor Brad Collier expects that Music Appreciation students' renditions of Christmas songs performed on Boomwhackers® musical tubes and other percussion instruments will be audience pleasers.
Prints of student art will be on sale during the event with all proceeds going to the Foundation of Wayne Community College for scholarships.
One matted-and-framed print and two canvas prints of original student works will be raffled off to offset students' costs for a trip to Spain scheduled for spring 2019.
The festival is free and open to the public.
For more information about this event or the fine arts programs at Wayne Community College, contact Waller at (919) 739-6843 or arwaller@waynecc.edu or Collier at (919) 739-6839 or brcollier@waynecc.edu.
Wayne Community College encourages persons with disabilities to participate in its programs and activities. Anyone who anticipates needing accommodation or has questions about access can contact the college's disability counselor at (919) 739-6729.
Wayne Community College is a public, learning-centered institution with an open-door admission policy located in Goldsboro, N.C. As it works to develop a highly skilled and competitive workforce, the college serves 12,000 individuals annually as well as businesses, industry, and community organizations with high quality, affordable, accessible learning opportunities, including more than 70 college credit programs. WCC's mission is to meet the educational, training, and cultural needs of the communities it serves.