WGU North Carolina, an online, nonprofit, university, is demonstrating its continued commitment to increasing access to affordable education by establishing a partnership with Wayne Community College.
The institutions have signed an agreement that will provide WCC graduates and faculty with a five percent discount on WGU North Carolina's already cost-effective tuition of around $3,500 per term for undergraduate programs.
The partnership also includes the announcement of the Wayne Community College Partnership scholarship program, which provides up to $2,000 in scholarships to students interested in transferring to Western Governors University (WGU).
"Our partnership with WGU North Carolina is a couple of steps beyond the typical articulation agreement," said Dr. Thomas A. Walker Jr., WCC's president. "Not only does it enable Wayne Community College graduates to transfer coursework toward a bachelor's degree, but they may also receive a tuition discount and are eligible for scholarships. Its online platform puts dozens of degrees at students' fingertips and this agreement will make it easier for them to take that next step and earn a bachelor's degree."
Through this agreement, Wayne Community College graduates will utilize WGU's Transfer Pathways program to ensure each transfer student's associate degree aligns with WGU's baccalaureate major and degree program offerings. WGU North Carolina offers 60 undergraduate and graduate degrees in the high-demand fields of business, technology, education and healthcare, including nursing.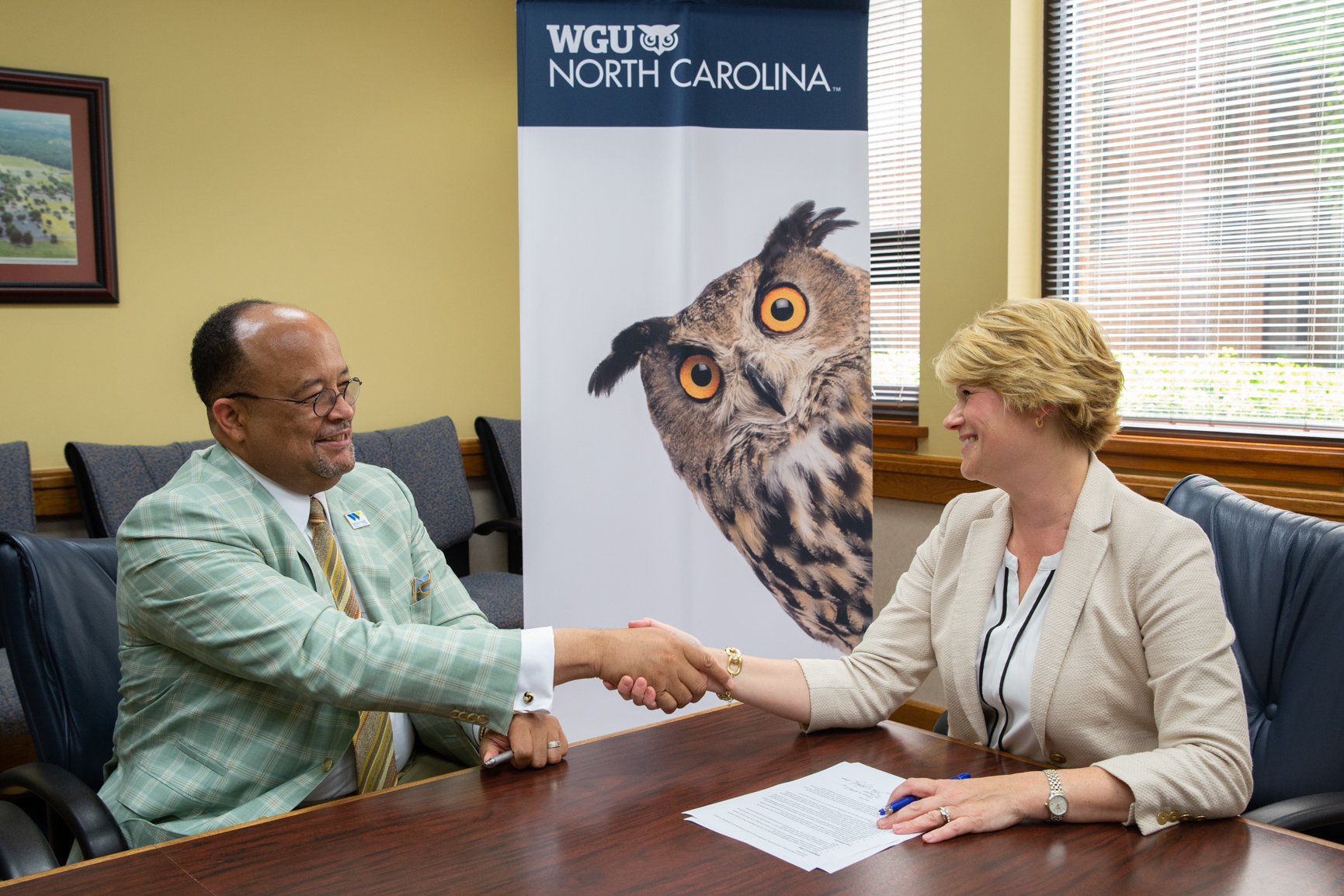 "We have a workforce shortage in the state of North Carolina, especially in the fields of healthcare and education, and this partnership will help us get one step closer to closing that gap," stated WGU North Carolina Chancellor Catherine Truitt. "Because WGU offers a competency-based learning model directly related to today's industry demands, our graduates are more prepared to enter today's workforce. North Carolina employers will now have a qualified source of candidates coming straight from Goldsboro."
WGU North Carolina officially launched in October 2017 through a partnership between the State and nationally recognized Western Governors University. WGU North Carolina maintains credit transfer policies in association with community colleges across the United States. Currently, there are more than 2,100 active WGU North Carolina students that have transferred in using college credits from North Carolina-based community colleges.
About WGU North Carolina
WGU North Carolina is an online, competency-based university established to expand access to higher education for North Carolina residents. The university offers more than 60 undergraduate and graduate degree programs in the fields of business, K-12 teacher education, information technology, and health professions, including nursing.
Degrees are granted under the accreditation of WGU, which is accredited through the Northwest Commission on Colleges and Universities (NWCCU). Teachers College programs are accredited by the National Council for Accreditation of Teacher Education (NCATE), and nursing programs are accredited by the Commission on Collegiate Nursing Education (CCNE*).
More information is available at nc.wgu.edu or by calling (866) 225-5948.
About Wayne Community College
Wayne Community College is a public, learning-centered institution with an open-door admission policy located in Goldsboro, N.C. As it works to develop a highly skilled and competitive workforce, the college serves around 12,000 individuals annually as well as businesses, industries, and community organizations with high quality, affordable, accessible learning opportunities, including more than 70 college credit programs. WCC's mission is to meet the educational, training, and cultural needs of the communities it serves.
*Western Governors University offers nursing programs that are accredited by the Commission on Collegiate Nursing Education (One Dupont Circle, NW, Suite 5380, Washington DC 20036, 202-877-6791).