Theresa White-Wallace has been named the Educational Office Professional of the Year by the North Carolina Association of Educational Office Professionals (NCAEOP).
She was presented the 2020-2021 Lula M. Burrell Educational Office Professional of the Year Award during the association's virtual annual conference. The award recognizes outstanding service to the association and to education.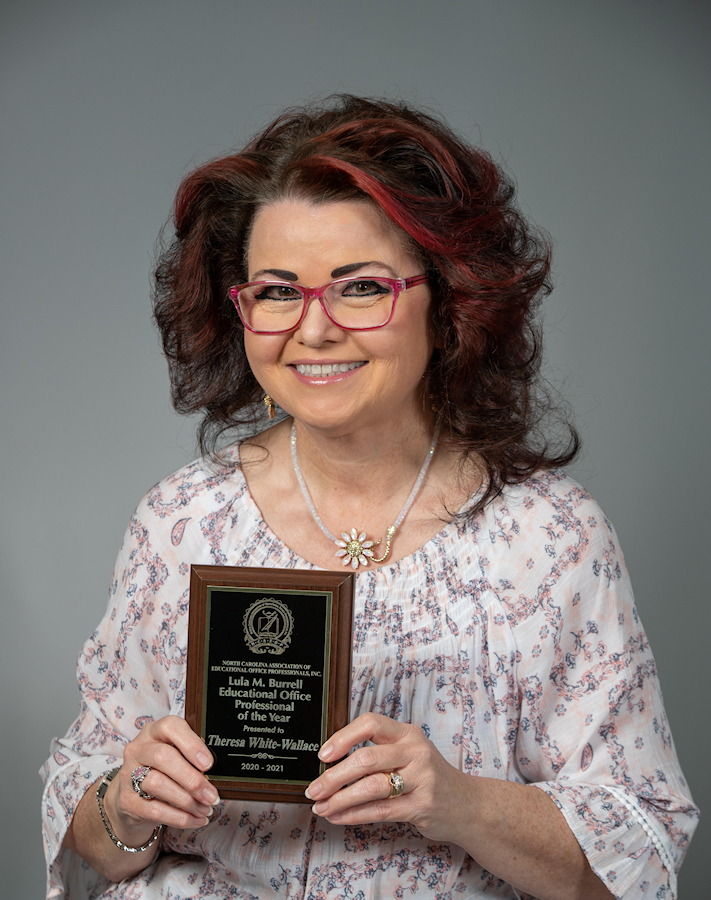 White-Wallace is the administrative assistant for the arts and sciences division and the language and communication department at Wayne Community College.
She has been active in the college's Association of Educational Office Professionals unit and at the district and state levels, serving on and chairing many committees and holding offices. She recently completed two terms as the president of the association's District 12 was elected the 2021-2022 recording secretary for the state association.
White-Wallace holds the Professional Associate certificate from NCAEOP's Professional Standards Program.
The North Carolina Association of Educational Office Professionals is a support organization for office personnel and administrators in public and private educational systems throughout North Carolina. The organization provides professional development opportunities, insurance, and scholarships to members as well as a legislative platform to promote input into all matters impacting matters of education in the state.
About WCC
Wayne Community College is a public, learning-centered institution with an open-door admission policy located in Goldsboro, N.C. As it works to develop a highly skilled and competitive workforce, the college serves more than 10,000 individuals annually as well as businesses, industry, and community organizations with high quality, affordable, accessible learning opportunities, including more than 140 college credit programs. WCC's mission is to meet the educational, training, and cultural needs of the communities it serves.
Follow WCC on Facebook (also @WayneCCNewsandViews), Twitter, and Instagram.