The George D. Williams Memorial Scholarship Fund has been established at Wayne Community College and its first recipient named.
The George D. Williams Memorial Foundation has donated $5,000 to the Foundation of Wayne Community College to bolster the college's Basic Law Enforcement Training (BLET) program. The funds will be used for awards for graduates and equipment for the program.
"We want to support the BLET program. We're all a lot better when we give back to the community," said Keith Combs, president of the George D. Williams Memorial Foundation and George Williams' son-in-law.
Williams was "always very community service oriented," Combs said. He founded the Wayne County Friends of Law Enforcement committee that provided an annual law enforcement appreciation dinner, was an emergency medical services volunteer, and served on the local Crime Stoppers and American Red Cross boards. He was honored with The Order of the Long Leaf Pine in 2002 for his exemplary service.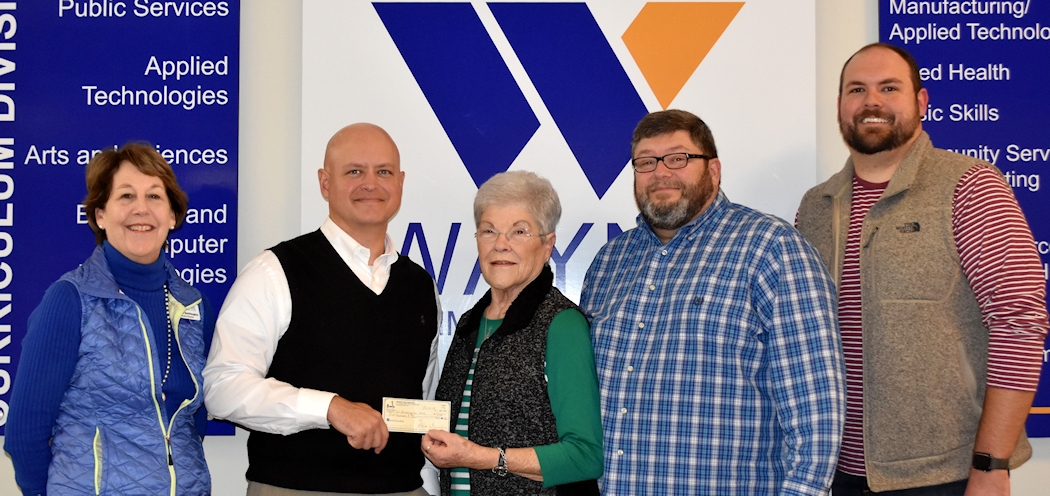 Jeremy Piner, who had received the Major J. Memmelarr Student Excellence Award during WCC's December 2019 BLET academy graduation ceremony, was the first to be recognized with a $500 award from the fund.
The Foundation of Wayne Community College is a non-profit organization that works to broaden the base of community support for educational opportunities at the college. It awarded 558 scholarships worth more than $382,000 for the 2018-2019 academic year. In addition to providing financial support to students, the Foundation funds mini grants and employee recognition, and offers cultural programs for the community. For more information about the Foundation, go to www.waynecc.edu/foundation.
Wayne Community College is a public, learning-centered institution with an open-door admission policy located in Goldsboro, N.C. As it works to develop a highly skilled and competitive workforce, the college serves 11,000 individuals annually as well as businesses, industry, and community organizations with high quality, affordable, accessible learning opportunities, including more than 140 college credit programs. WCC's mission is to meet the educational, training, and cultural needs of the communities it serves.
Follow WCC on Facebook (also @WayneCCNewsandViews), Twitter, and Instagram.