The Wayne Occupational Readiness Keys for Success (WORKS) initiative has been recognized for its workforce advancement accomplishments.
The WORKS partnership was lauded for "Outstanding Achievement in Workforce Development" by the Eastern Carolina Workforce Development Board at its Annual Recognition Banquet.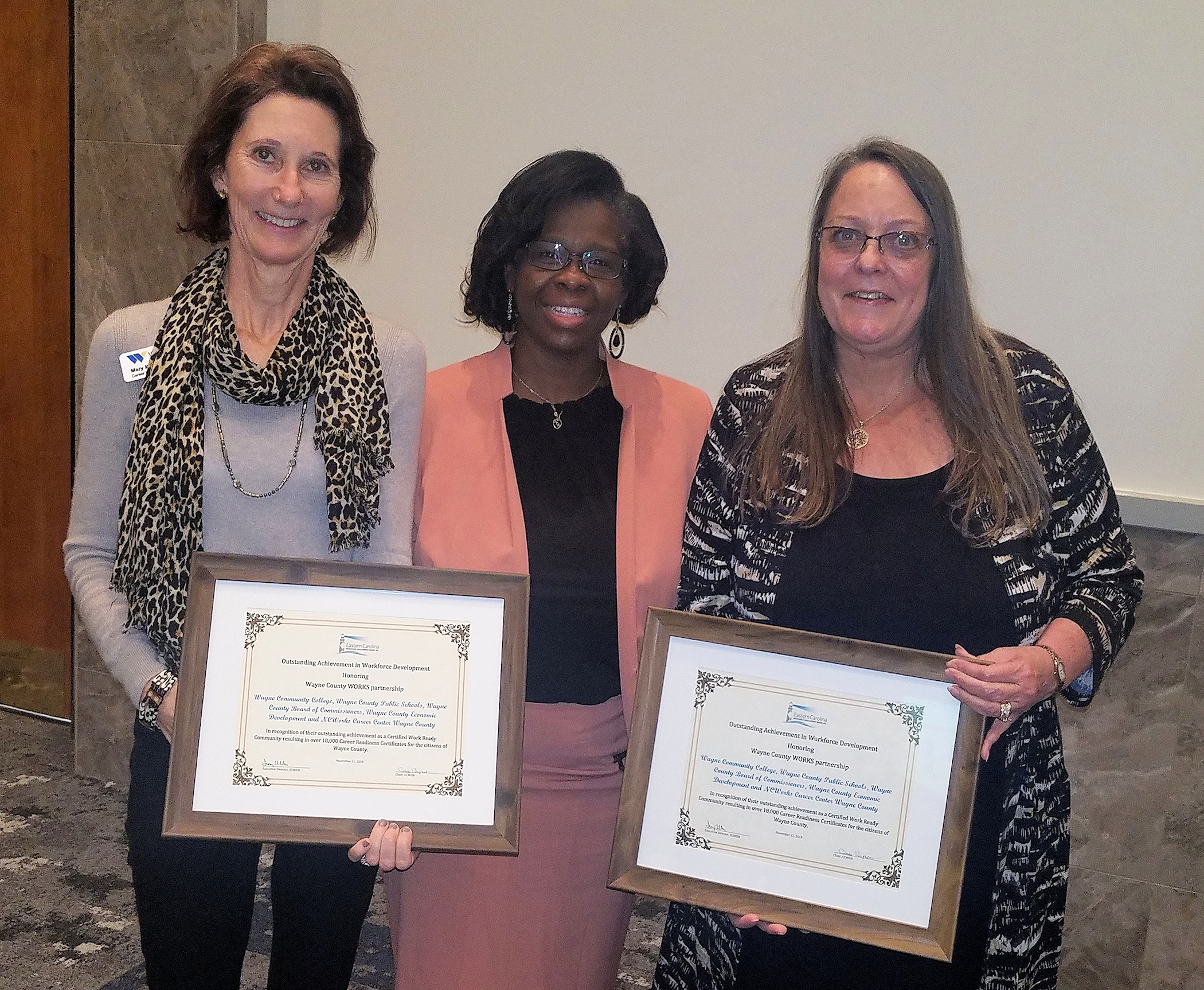 WORKS collaborators include Wayne Community College, Wayne County Development Alliance, Wayne County Public Schools, NCWorks Career Center – Wayne County, Wayne County Board of Commissioners, and other organizations and agencies.
WORKS' mission is to develop and market a skilled workforce by encouraging industries to set skill-level standards and requirements for positions, move the workforce to complete assessments that provide verification of skills, and maintain support from government, industry, education, and economic development entities.
The skills assessments that are considered the standard for local industries are the ACT® WorkKeys® tests for the National Career Readiness Certificate (NCRC). More than 100 Wayne County employers recognize or recommend the NCRC.
More than 20,000 total certificates have been awarded in Wayne County, according to Wayne Business and Industry Center Executive Director Craig Foucht. Nearly 40 percent of the county's workforce holds some level of the credential.
Individuals may earn a bronze, silver, gold, or platinum NCRC based on performance on a set of three skill assessments (Applied Math, Graphic Literacy, and Workplace Documents). The tests are administered at Wayne Community College, which also maintains the WORKS Lab for self-directed instruction and skills upgrade training.
The citation also referenced Wayne County's "outstanding achievement" as an ACT Certified Work Ready Community. The county was certified as North Carolina's first Work Ready Community in 2015 and has maintained its status by continuing to measure, certify and improve the skill level of its workforce.
About ECWDB
The Eastern Carolina Workforce Development Board is a non-profit organization that administers workforce development programs funded through the Federal Workforce Innovation and Opportunity Act. The ECWDB contracts its programs with reputable organizations throughout Wayne, Duplin, Greene, Lenoir, Onslow, Jones, Craven Pamlico and Carteret counties, which provide services in their local NCWorks Career Centers to serve both the job/training seeker and employer populations.
About WCC
Wayne Community College is a public, learning-centered institution with an open-door admission policy located in Goldsboro, N.C. As it works to develop a highly skilled and competitive workforce, the college serves 11,000 individuals annually as well as businesses, industry, and community organizations with high quality, affordable, accessible learning opportunities, including more than 140 college credit programs. WCC's mission is to meet the educational, training, and cultural needs of the communities it serves.
Follow WCC on Facebook (also @WayneCCNewsandViews), Twitter, and Instagram.