Wayne Community College and Fayetteville State University have signed an agreement that permits WCC graduates to earn a degree at FSU for no more than $10,000.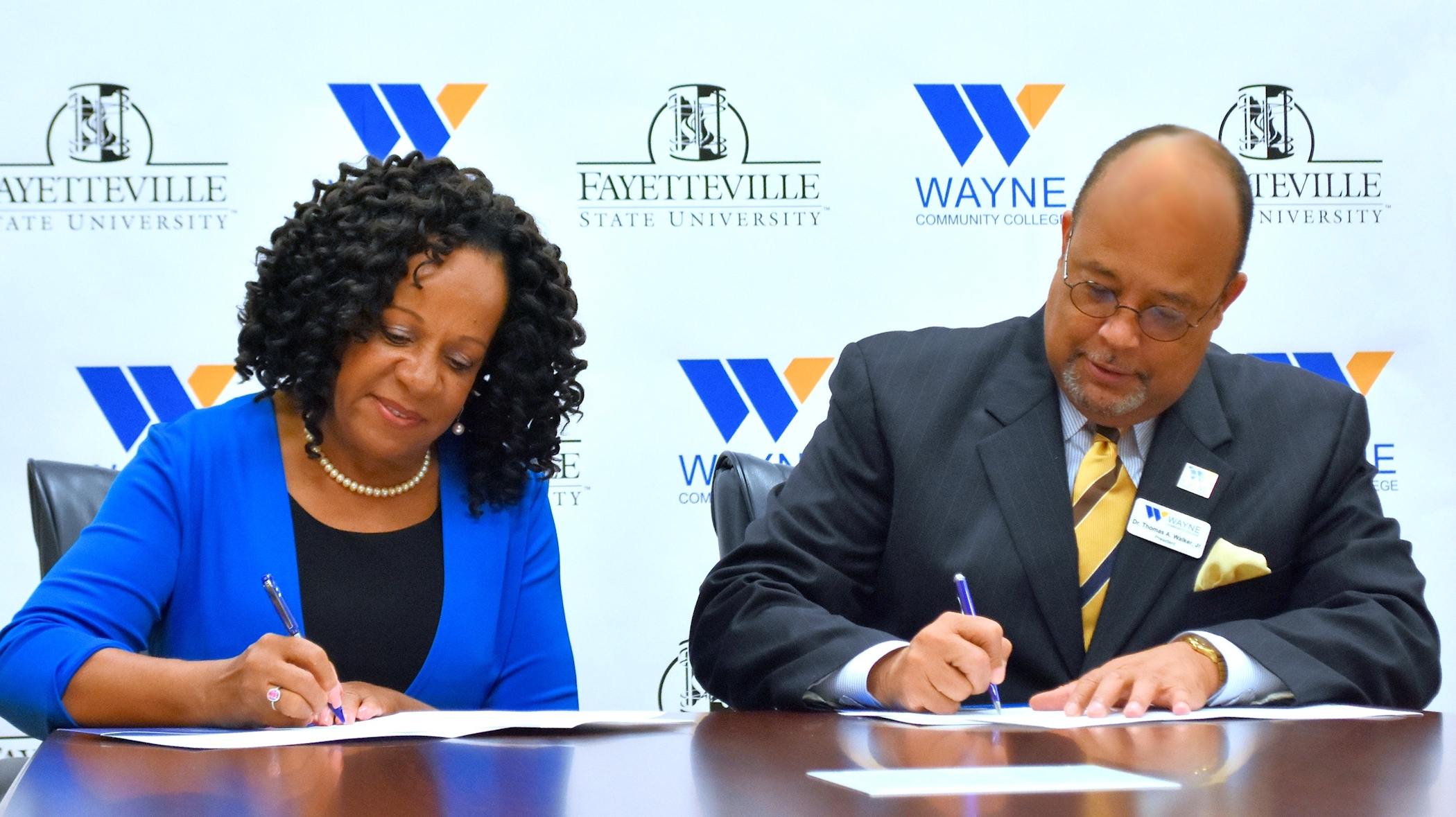 The "$10K Degree Pathway" partnership gives WCC associate degree graduates the option of completing an online bachelor's degree at FSU at a total cost of no more than $10,000 in out-of-pocket expenses, or approximately $5,000 at WCC and $5,000 at FSU.  Students eligible for federal and state grants will likely pay less than $10,000 out of pocket.
The plan opens the door for WCC graduates to pursue affordable bachelor's degrees in these programs at FSU: Accounting, Birth through Kindergarten (non-teaching), Business Administration (General), Criminal Justice, Fire and Emergency Services Administration, Intelligence Studies, Nursing (RN-BSN), Professional Studies, Psychology, and Sociology.
"We are excited to enter into this partnership with Wayne Community College," said Dr. Peggy Valentine, FSU's interim chancellor. "This agreement demonstrates both institutions' commitment to make the cost of a college education attainable and affordable. The FSU family looks forward to serving and working with those students who seek a degree from our institution."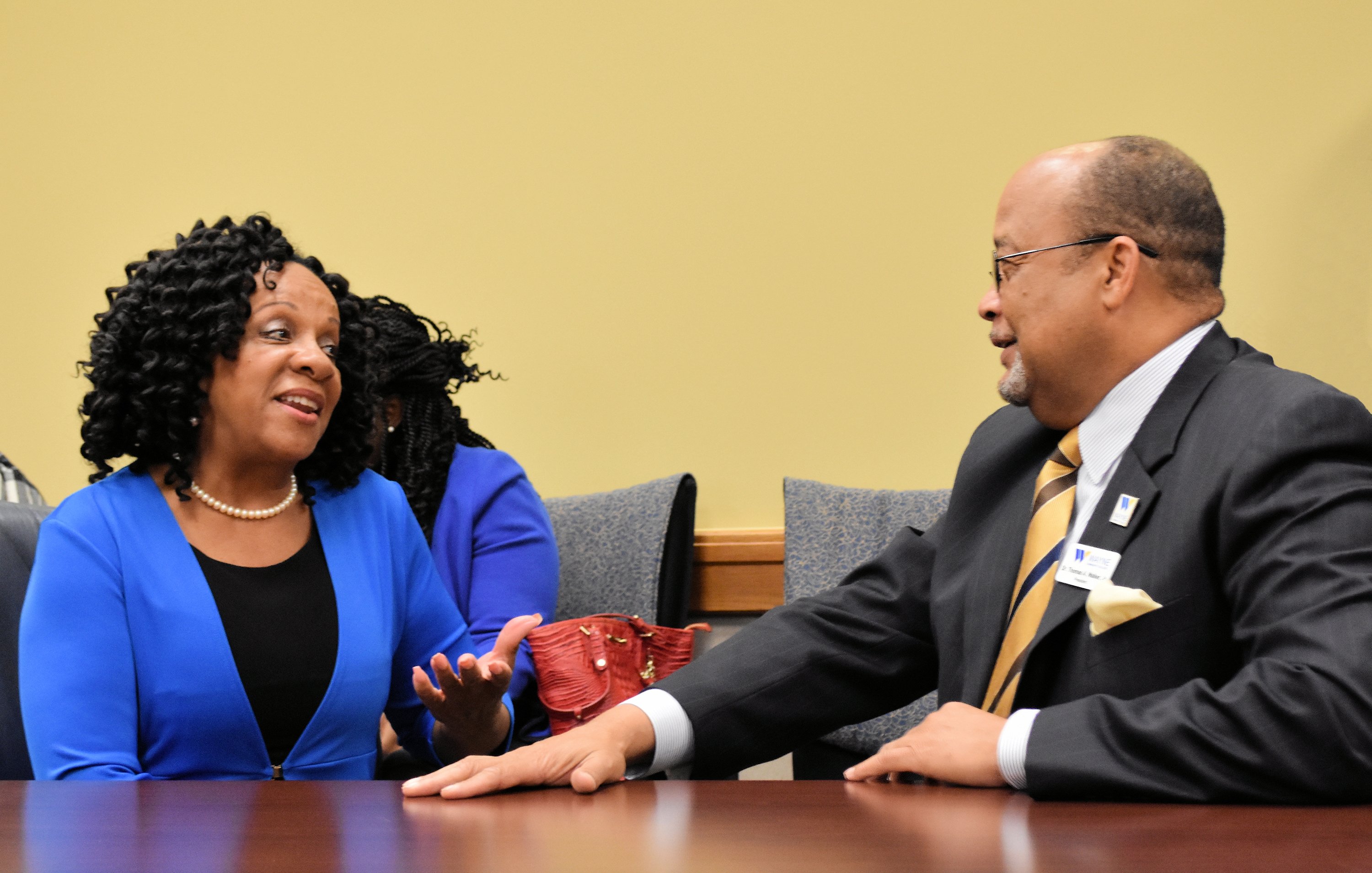 "The partnership Wayne Community College is entering into with Fayetteville State University furthers our efforts to remove barriers to education and better lives," said Dr. Thomas A. Walker Jr., president of WCC. "The $10,000 Degree Pathway Plan will allow students to complete 10 online bachelor's degrees that promise exciting career options without having to leave their homes or incur debilitating debt. We are excited to be able to offer this opportunity to our students."
Anyone interested in taking advantage of the WCC-to-FSU $10K Degree can contact WCC College Transfer Advising Center Director Kaycee Ingram at 919-739-6755 or klingram@www.waynecc.edu.
About Fayetteville State University
Fayetteville State University is a constituent institution of The University of North Carolina and the second-oldest public institution of higher education in the state, having been founded in 1867. FSU offers degrees at the baccalaureate, master's, and doctoral levels. With more than 6,500 students, Fayetteville State University is among the most diverse institutions in the nation. Interim Chancellor Peggy Valentine is the 12th chief executive officer. To learn more about Fayetteville State University, visit www.uncfsu.edu.
About WCC
Wayne Community College is a public, learning-centered institution with an open-door admission policy located in Goldsboro, N.C. As it works to develop a highly skilled and competitive workforce, the college serves 11,000 individuals annually as well as businesses, industry, and community organizations with high quality, affordable, accessible learning opportunities, including more than 140 college credit programs. WCC's mission is to meet the educational, training, and cultural needs of the communities it serves. Find more information about WCC at www.waynecc.edu.
Follow WCC on Facebook (also @WayneCCNewsandViews), Twitter, and Instagram.