Renaissance, Wayne Community College's writers' and artists' magazine, and its contributors have been recognized by the Community College Humanities Association for the sixth consecutive year.
The magazine's 2022 issue, as well as four writers and artists whose works appeared in it, took awards in the association's annual Literary Magazine Competition in the Southern Division.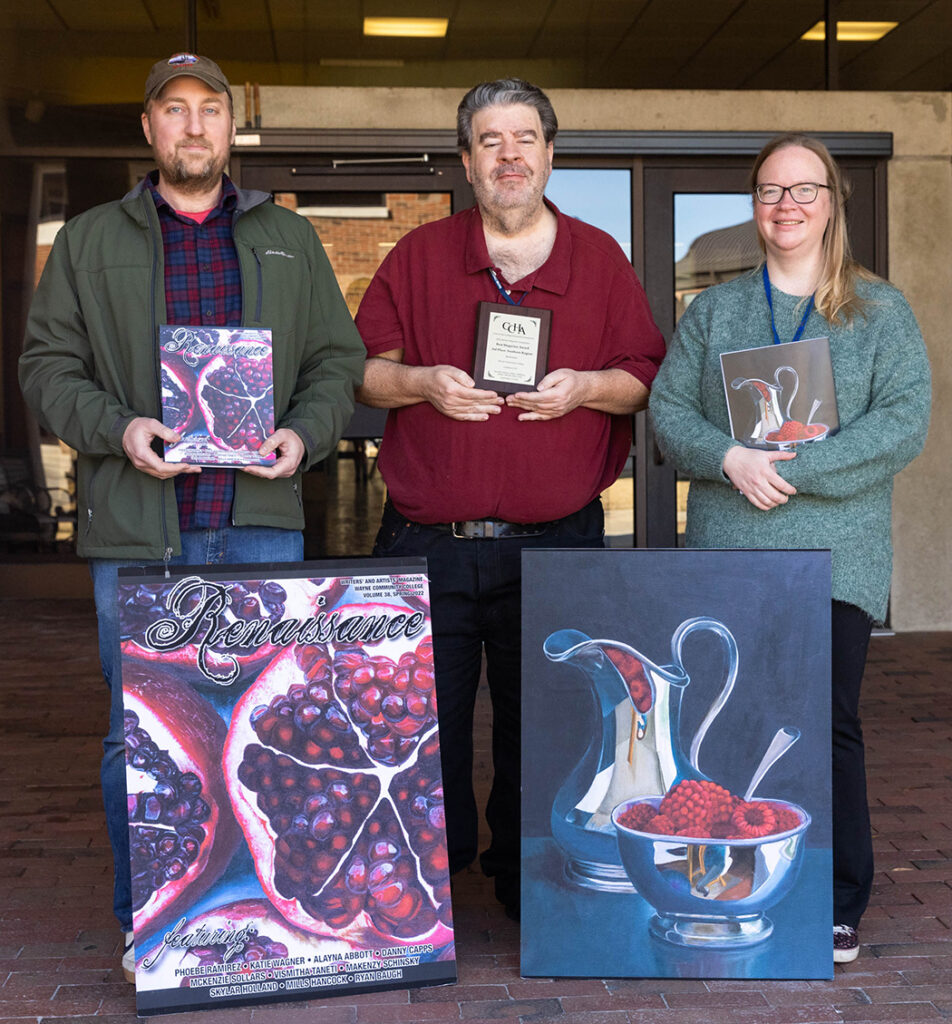 The magazine was presented third place in the Best Magazine category. Criteria for awards in that category are aesthetics, correct editing, ease of navigation, and strength of student work.
Honored individuals were
Skylar Holland, Agribusiness Technology major dual enrolled with Wayne School of Engineering – first place in Best Short Story category for "Bunny Ears;"
McKenzie Sollars, Associate in Arts (college transfer) major – second place in the Best Short Story category for "Liminality;"
Katie Wagner, Associate in Science (college transfer) major – third place in the Best Artwork category for "Angry-Eyed;"
Lynn Swafford, biology instructor and Honors Program coordinator – third place in the Best Photography category for "Tiger Swallowtail."
WCC English Instructors Jeff Williams, Ashley Merrill, and Dean Tuck are the magazine's editors.
Magazines compete within their "weight" class determined by college enrollment and publication budgets. First through third places are awarded within each of five geographical regions and nationally.
The latest volume of Renaissance, published in April 2022, and past issues, are posted on the college's website.
Printing of the magazine is partially funded by a grant from the Foundation of Wayne Community College.
The annual literary magazine competition, which highlights student work from all over the nation, is one of the highlights of the Community College Humanities Association. The competition reinforces the CCHA mission of helping to shape and strengthen students with their personal and professional growth in the humanities.
About the Community College Humanities Association
The CCHA, founded in 1979, is the only national organization for humanities faculty and administrators in two-year colleges. It is dedicated to preserving and strengthening the humanities in two-year colleges as well as creating awareness of the value of humanities education for students, parents, employers, and members of the community. CCHA serves as a catalyst for defining and finding progressive solutions to the many fluid and mutable issues that face community college humanities faculty and administrators.
About Wayne Community College
Wayne Community College is a public, learning-centered institution with an open-door admission policy located in Goldsboro, N.C. As it works to develop a highly skilled and competitive workforce, the college serves 10,000 individuals annually as well as businesses, industry, and community organizations with high quality, affordable, accessible learning opportunities, including more than 165 college credit programs. WCC's mission is to meet the educational, training, and cultural needs of the communities it serves.