The 13 members of the 2017 Medical Assisting class at Wayne Community College were presented their pins in a formal ceremony at the college May 10.
The annual service, which includes presentation of medical assistant pins and red roses to students by the program faculty, and recitation of the Medical Assistant's Creed, denotes the end of the graduates' academic careers and beginning of their professional lives.
This year's graduates are
Tonia Gooding of Dudley;
Carrie Poland of Elroy;
Kiandria Dixon, Courtney Evans, Dennise Harrington, Jocelyn Outlaw, Jessica Pittman, and Olivia Tipton of Goldsboro;
Heather Jones of Grantham;
Lakisha Campbell and Candice Perry of Snow Hill;
Tea'ra Howell of Mar Mac; and
Jocelyn Outlaw of Mount Olive.
Harrington was presented the annual Clinical Excellence Award, which recognizes the graduate who earns above average clinical site evaluations and the highest number of clinical hours.
The Academic Excellence Award went to Vasquez. The award recognizes the graduate who achieves the highest standards in the classroom and has the highest overall grade point average.
Outlaw was named the "most outstanding student." She earned the award with an exceptional grade point average, excellent clinical reviews, and demonstrated commitment to her new profession. Outlaw "exhibits everything a medical assistant is," said Medical Assisting Program Director Heather Odom.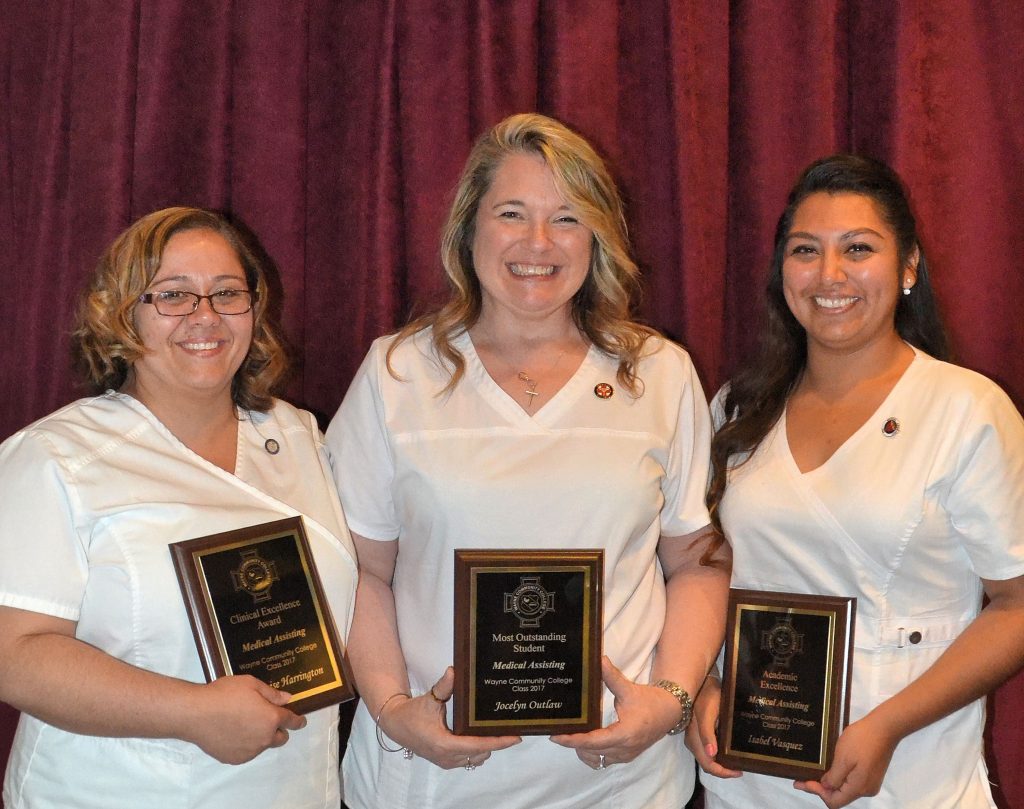 "One chapter is ending. Another is beginning and the sky is the limit," Instructor Denise Kearney told the graduates. She urged them to "continue to grow in knowledge and skills" and always remember that their patients are human beings.
WCC's Medical Assisting Program is an 18-month, limited admission program that includes administrative, clinical and lab components. It is accredited by the Commission on Accreditation of Allied Health Education Programs upon the recommendation of the Curriculum Review Board of the American Association of Medical Assistants (AAMA) Endowment. Graduates of WCC's program are eligible to sit for the AAMA's examination to become Certified Medical Assistants.
Wayne Community College is a public, learning-centered institution with an open-door admission policy located in Goldsboro, N.C. As it works to develop a highly skilled and competitive workforce, the college serves around 12,000 individuals annually as well as businesses, industry, and community organizations with high quality, affordable, accessible learning opportunities, including more than 70 college credit programs.
Medical Assisting Class of 2017 award winners are (left to right) Dennise Harrington, Clinical Excellence; Jocelyn Outlaw, Most Outstanding Student; and Jocelyn Outlaw, Academic Excellence.