Wayne Community College has decked its halls with student art.
More than 100 works produced throughout the fall semester by students in the college's drawing, painting, and design courses are showcased in the Wayne Learning Center Atrium on WCC's main campus in Goldsboro. The public can view them during the college's regular operating hours, now through 11 a.m., Monday, Dec. 9.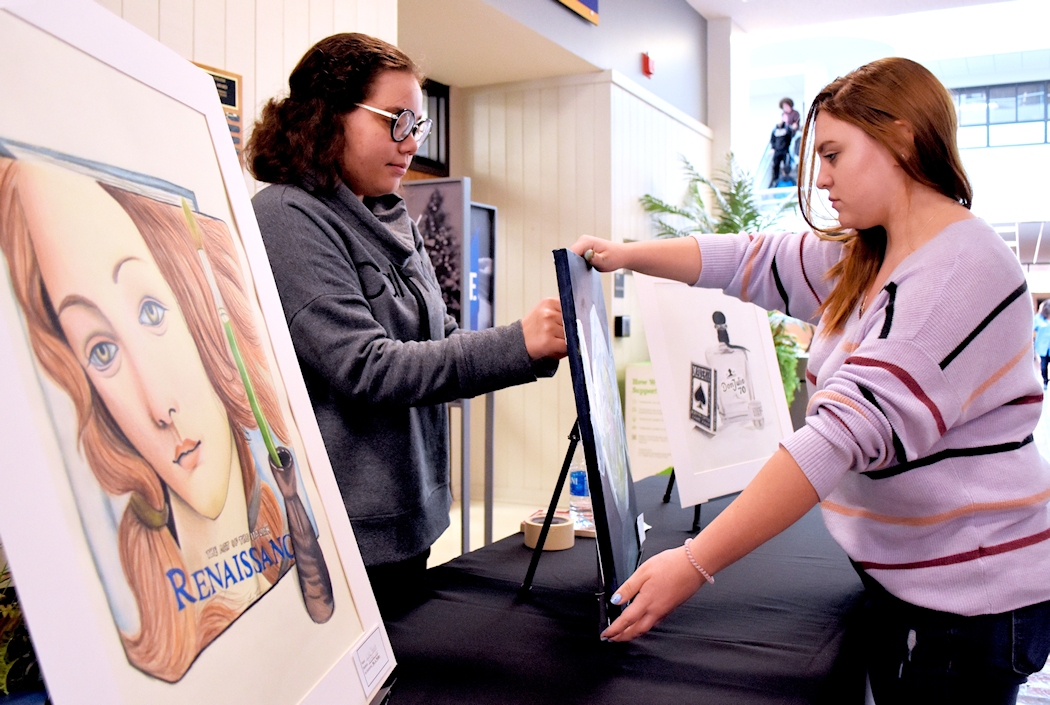 The culmination of the exhibition is the Winter Fine Arts Festival which is set for the evening of Thursday, Dec. 5. It opens at 6 p.m.
WCC students, faculty, and staff will provide live music throughout the event. There will be a special appearance from A Drummers World Drum Line at 6:30 p.m.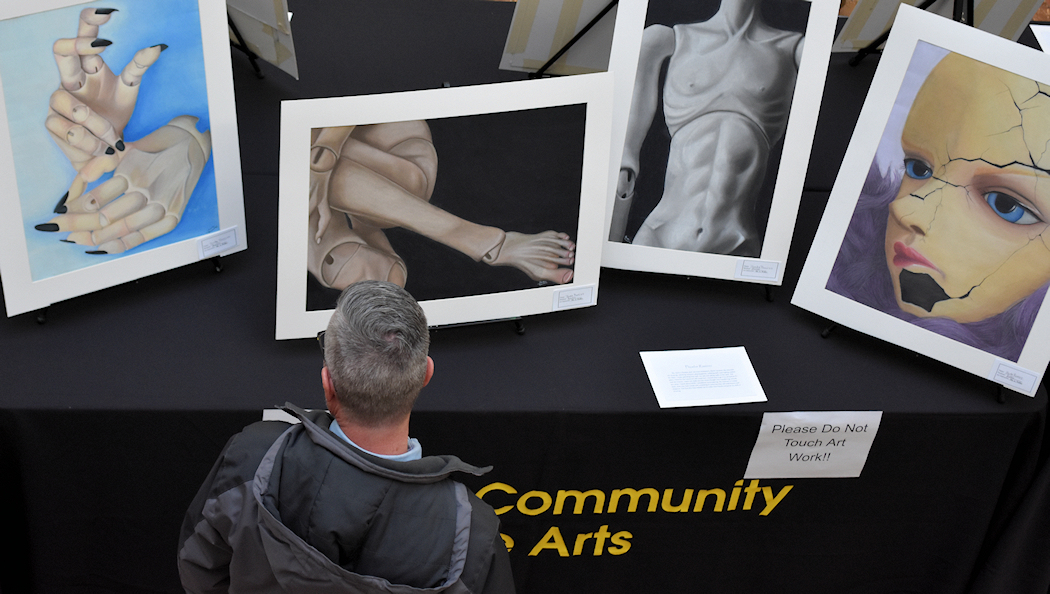 "There is no denying that Wayne Community College has talent," said WCC Art Instructor Angie Waller. "The students continue to amaze me."
Waller pointed to students' "first day" samples that are on display beside their latest pieces to illustrate progress that has occurred in the interim.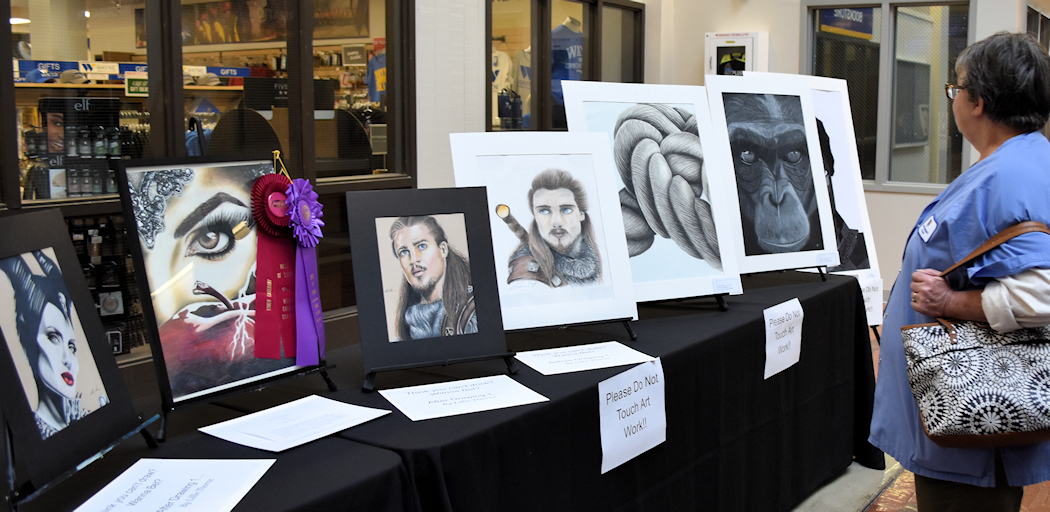 One of those progression examples includes Lillie Thorne's "The Evil Queen" colored pencil drawing that won "Best in Show" in the youth category at the Wayne Regional Agricultural Fair and took the same award in the North Carolina State Fair's large county fair division.
Among the traditional drawn and painted pieces on exhibit are a painted paper dress, a textile wall hanging and another that features coat hangers, a woven lamp shade, life-size humanoid figures created from packing tape, a monkey sculpted from cardboard, a pushpin portrait, and two styles of digital portraits.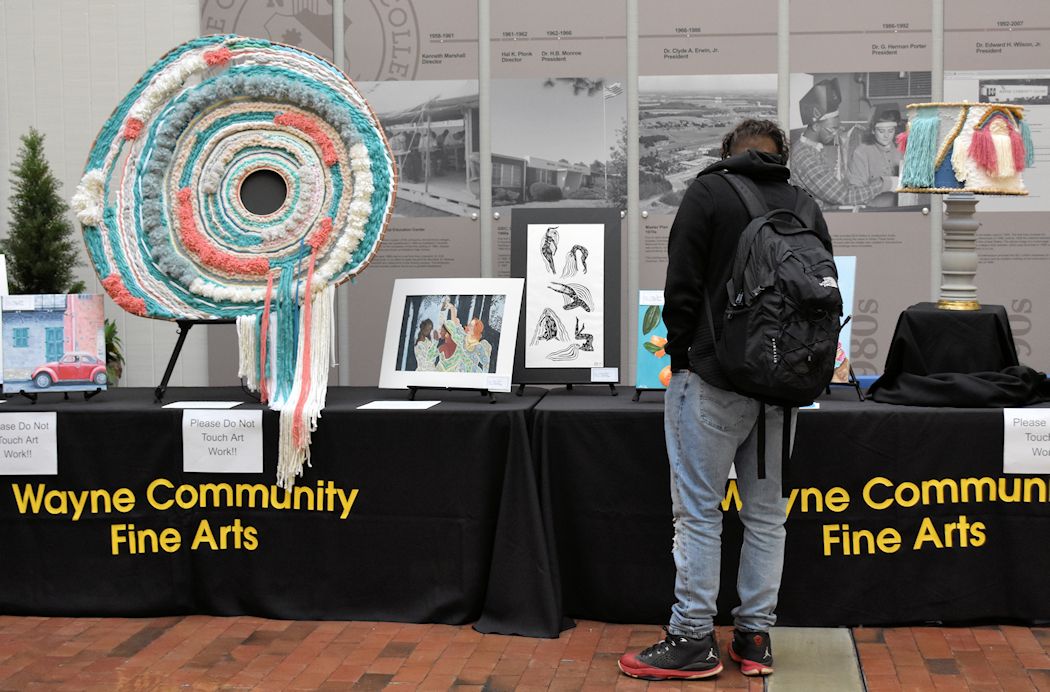 The festival is free and open to the public.
For more information about this event or the fine arts programs at Wayne Community College, contact Waller at 919-739-6843 or arwaller@waynecc.edu.
Wayne Community College encourages persons with disabilities to participate in its programs and activities. Anyone who anticipates needing accommodation or has questions about access can contact the college's disability counselor at 919-739-6729.
Wayne Community College is a public, learning-centered institution with an open-door admission policy located in Goldsboro, N.C. As it works to develop a highly skilled and competitive workforce, the college serves 11,000 individuals annually as well as businesses, industry, and community organizations with high quality, affordable, accessible learning opportunities, including more than 140 college credit programs. WCC's mission is to meet the educational, training, and cultural needs of the communities it serves.
Follow WCC on Facebook (also @WayneCCNewsandViews), Twitter, and Instagram.