Meet The President
---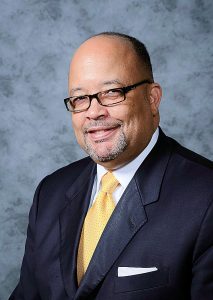 Dr. Thomas A. Walker, Jr. began his role as the sixth president of Wayne Community College on September 1, 2016.
He came to Wayne Community College from the Grand Island campus of Central Community College where he was the Campus President (2014-2016). Dr. Walker had also been the Vice President for Student and Enrollment Services for all locations of Central Community College in Nebraska.
Dr. Walker has served in many roles in education throughout his career. In Missouri, he was Vice President for Student Affairs at St. Louis Community College-Forest Park, founding Executive Director of K.I.P.P. (Knowledge is Power Program) St. Louis, and Dean of Administrative Services at Metropolitan Community College, Kansas City. He held the posts of Dean of Student Services and Enrollment Management at Davidson County Community College in North Carolina and Southwest Tennessee Community College as well as a full-time faculty member and an academic dean.
He has been involved in several executive development programs including Harvard University's Institute for the Management of Lifelong Education, the League for Innovation in the Community College's Executive Leadership Institute, and the Presidents' Round Table of African-American CEOs of Community Colleges' Thomas Lakin Institute for Mentored Leadership.
Dr. Walker has been a Fellow with the National Center for Education Statistics and Harvard Seminar for New Presidents. Most recently, he was a member of the inaugural class (2016-2017) of the Aspen Institute's Presidential Fellowship for Community College Excellence.
He currently serves as a Commissioner on the American Association of Community Colleges Commission for Academic, Student, and Community Development in addition to serving on the board of the Higher Education Research and Development Institute.
Dr. Walker hails originally from Lumberton, North Carolina. He has a Bachelor's Degree in Political Science and Journalism from the University of North Carolina at Chapel Hill. His graduate degrees include a Master of Public Administration and a Doctoral Degree in Higher Education Administration from The University of Memphis.
He also served as an officer in the United States Marine Corps.
Dr. Walker is a member of the Goldsboro Rotary and a board member of the United Way of Wayne County. He fills his leisure time with fishing, birding, hunting, and just about all outdoor activities. Additionally, he enjoys antiquarian book collecting and higher education research.
He was most recently published in the Journal of College Student Development in a 2017 article he co-authored titled "Social Belonging and College Retention: Results from a Quasi-Experimental Pilot Study" and his review of the book Alternative Pathways to the Baccalaureate: Do Community Colleges Offer a Viable Solution to the Nation's Knowledge Deficit? was included in the The Journal of Negro Education in 2013.