Transitional Programs for College and Career (Adult High School/GED/ELA)
---

Information and Placement Sessions
Orientations are held on Mondays and Wednesdays.
You must attend both days of the orientation.
Adults 18+ years old

AHS ONLY – sealed official transcript
Must bring your Social Security card and photo ID Card

Minors 16 and 17 years old

Get these forms from your High School

Sealed Transcript
Behavior Form or Letter
Release Form signed by the Principal and the School Superintendent

By Appointment Only

Call Mr. Warren for an appointment at 919-739-6921 (after you have all the forms).
Come to the appointment with a parent or guardian.
Orientation Schedule
October 9 & 11
2:00 p.m. - 5:00 p.m.
Monday and Wednesday
Walnut Building
Room 220
October 22 & 25
6:00 p.m. - 9:00 p.m.
Monday and Wednesday
Walnut Building
Room 220
November 13 & 15
6:00 p.m. - 9:00 p.m.
Monday and Wednesday
Walnut Building
Room 220
December 4 & 6
2:00 p.m. - 5:00 p.m.
Monday and Wednesday
Walnut Building
Room 220
Orientation Interest Form
---
Basic Skills Plus
Get college and career ready while you earn your high school equivalency or adult high school diploma in career pathways such as:
CNA I (Certified Nursing Assistant)
Medical Office Administration: Insurance Certificate
EMT Basic
Industrial Systems Technology
Machining
Welding
For more information contact:
Advisor/Transition Coach
Harold Warren (email: harwar@waynecc.edu)
919-739-6921 or
919-739-6908
---
Transitional Programs for College and Career Handbook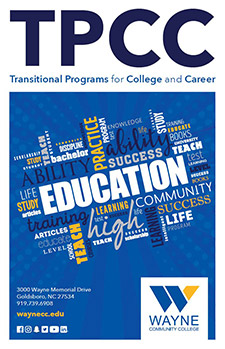 Download a PDF of the TPCC Handbook.
---
High School Equivalency Diploma (HSE)
HSE classes are offered by WCC on campus. This program is an excellent way for adults 18 and older to find their way back into the system of better paying jobs and higher education. Millions of adults have earned their HSE which is accepted at 97% colleges and universities. Your future is calling. By completing your HSE test, you can answer that call, and then go to college, get a better job, enjoy the respect you deserve and the accomplishment of earning your high school diploma.
We have two options for the HSE diploma – GED and HiSET.  Both are accepted nationwide as an equivalency diploma.  Learn more about HiSET Equivalency option at hiset.ets.org.

---
GED Testing Service
Get more information about taking the GED® test at ged.com.
For more information contact Lynn Rabhan (email: lrabhan@waynecc.edu). Phone: 919-739-6917.
---
Adult High School Diploma (AHS)
AHS classes, offered on campus only, are quality, competency-based courses which prepare adults for higher education or for the workforce. WCC's AHS program offers more than 30 interesting and challenging classes including such courses as English, Biology, Chemistry. Life and Job Skills and Achieving Postsecondary Pathways to name a few!
For more information contact Harold Warren (email: harwar@waynecc.edu). Phone: 919-739-6921.
---
English Language Acquisition (ELA)
ELA classes are offered both on campus and at off-campus sites to adults who speak English as their second language.  ELA classes focus on group conversation, grammar and writing instruction, reading comprehension, civics, and employment skills.  Over 30 countries have been represented in WCC's Basic Skills ELA program! This program is also commonly referred to as ESL (English as a Second Language).
For more information, contact:
Amelia Hall at ajhall@waynecc.edu or 919-739-6911
Maria Abalo-Zarate at mfabalo-zarate@waynecc.edu or 919-739-6924
Want to take your language skills to the next level? The Quest Academy is offered to advanced ELA students.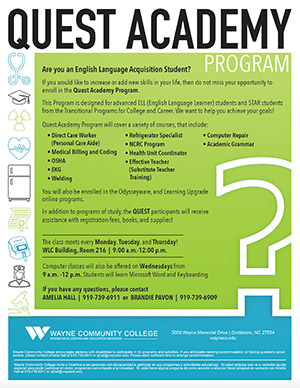 ---
Computer Assisted Training (CAT)
The Transitional Programs For College and Career Computer Lab offers state-of-the-art computers in a quiet, relaxed atmosphere.  No prior computer knowledge is necessary.  Software includes instruction in writing, grammar, math, reading, job skills, life skills, GED, High School courses and the National Career Readiness Certificate (NCRC). There is no cost to students, and instructors are on hand to assist if necessary.  Some lessons can also be accessed from home on the web! For more information contact Krystle Anderson.  Phone: 919-739-6916.