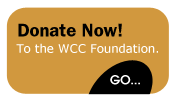 The Foundation of Wayne Community College is a nonprofit organization established to support the students, faculty, staff and programs of Wayne Community Community College. The purpose of the Foundation is to broaden the base of community support in order to promote the educational development of Wayne Community College.  To learn more about the Foundation and its history please visit the About the Foundation page.
Happenings
The partnership continues!  Wayne Memorial Hospital has partnered with the Foundation for many years by providing scholarships to second-year students in the Associate Degree Nursing Program here are Wayne Community College.  We are thrilled to continue this partnership and accept a check for $100,000.  Pictured left to right are Sue Beaman, Department Chair for Nursing at WCC, Patty Pfeiffer, Division Chair, Allied Health & Public Services at WCC, Dr. Thomas Walker, WCC President, Janie Jaberg, President and CEO for WAYNE UNC Health Care, and Adrienne Northington, Executive Director for the Foundation of Wayne Community College.
On Tuesday, February 28, eleven Karl Best Leadership Program members headed to Washington, DC to lobby our legislatures.  The main issues of concern that were expressed were Labor Wage Rates and Hurricane Matthew Relief.  The group met with the offices of Congressman David Rouzer and Senators Thom Tillis and Richard Burr
On Tuesday, February 21, the Foundation hosted its annual Scholarship Awards Presentation.  This special night honors scholarship recipients from the past year and their donors. It is always a wonderful time of fellowship and recognition. This year 344 students received 544 scholarships worth more than $393,000!
The Karl Best Leadership Program graduated its 6th class this year!  The class consists of a two day retreat and 2 days of daytime classes.  Each class participates in team building exercises, agriculture leadership sessions, hot topic issue discussions, and they also meet with the Wayne County Commissioners.  To learn more about our Karl Best Leadership Program please click here.  Below are pictures from this year's class and graduation.
On January 10 The Foundation partnered with The University of North Carolina at Chapel Hill to present a program titled "Napoleon and His Legacy."  Dr. Lloyd Kramer and Dr. Max Owre wowed us with their knowledge of all things Napoleon from his tactical battle skills to his reign of tyranny.  It was a day of life long learning at its finest and one which we will not soon forget.
On December 15 the college celebrated the Holidays with food and fellowship.  At this time four staff members were awarded with Employee of the year awards.  Each recipient gets $875 funded by The Foundation. This year's winners are Audrey Hinnant (Operational & Maintenance Staff), Michelle Rogers (Professional Support Staff), Vanessa Jernigan (Professional Staff), and Lee Szatkowski (Adjunct Faculty).
Pictured from left to right are Dr. Thomas Walker (WCC President), Adrienne Northington (Executive Director, The Foundation of WCC), Vanessa Jernigan, Lee Szatkowski, Michelle Rogers, and Audrey Hinnant.
On December 8 the Foundation hosted its annual Wayne Community College Retiree's Luncheon. As always, a great time was had by all.   Three past WCC presidents and our current president, Dr. Walker were all in attendance. Student artwork was on display in the Atrium and was enjoyed by all. What a special day!
We are happy to report that we had a very successful 24th Annual Scholarship Invitational, raising $176,000 all for student scholarships! This record breaking amount makes it possible for The Foundation to continue to help deserving students! We have been fortunate enough to host a Scholarship Invitational each year since 1992. Over the past 24 years the Scholarship Invitational has raised more than $1,490,000.00 for student scholarships. This year at the dinner auction Candace Jones, a former WCC student, scholarship recipient and Foundation work study spoke to those in attendance.
What's Happening Now
Foundation Videos