The Foundation of Wayne Community College is a nonprofit organization established to support the students, faculty, staff and programs of Wayne Community Community College. The purpose of the Foundation is to broaden the base of community support in order to promote the educational development of Wayne Community College.  To learn more about the Foundation and its history please visit the About the Foundation page.
The Foundation has had a busy week.  We are happy to report that we had a very successful 24th Annual Scholarship Invitational. The Foundation has been fortunate enough to host a Scholarship Invitational each year since 1992.  Last year the tournament raised a record $167,000, all of which went to fund student scholarships. Stay tuned as the amount raised this year will soon be announced.
We are currently in the process of awarding scholarships for the Fall 2016 semester as well as planning the Arts and Humanities program for Fall 2016. We look forward to the speakers and trips that are being planned and will have all details finalized soon. We look forward to sharing this information with you in hopes that you will be able to attend our offerings.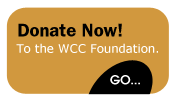 What's Happening Now
Foundation Videos