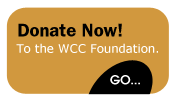 The Foundation of Wayne Community College is a nonprofit organization established to support the students, faculty, staff and programs of Wayne Community Community College. The purpose of the Foundation is to broaden the base of community support in order to promote the educational development of Wayne Community College.  To learn more about the Foundation and its history please visit the About the Foundation page.
Arts and Humanities Update
Hurricane Matthew and the subsequent flooding caused us to postpone two of our lectures in the Fall 2016 schedule.
Dr. Tony Rivera's talk on "Iran's Grand Strategy" that was scheduled to take place on Monday, October 17 has been rescheduled for Monday, October 31 at 7:00 p.m. in Walnut 101.
We are working with our partners at UNC Chapel Hill to reschedule the Napoleon and His Legacy seminar.  With the holidays quickly approaching and the end of the semester right around the corner we will more than likely need to reschedule for the beginning of next year. We will honor all reservations and let you know the new date as soon as possible.

If you would like to familiarize yourself with Napoleon and his reign prior to the lectures we have compiled a suggested reading list.
We are happy to report that we had a very successful 24th Annual Scholarship Invitational, raising $176,000 all for student scholarships! This record breaking amount makes it possible for The Foundation to continue to help deserving students! We have been fortunate enough to host a Scholarship Invitational each year since 1992. Over the past 24 years the Scholarship Invitational has raised more than $1,600,000.00 for student scholarships. This year at the dinner auction Candace Jones, a former WCC student, scholarship recipient and Foundation work study spoke to those in attendance.
What's Happening Now
Foundation Videos