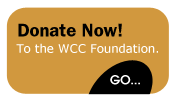 The Foundation of Wayne Community College is a nonprofit organization established to support the students, faculty, staff and programs of Wayne Community Community College. The purpose of the Foundation is to broaden the base of community support in order to promote the educational development of Wayne Community College.  To learn more about the Foundation and its history please visit the About the Foundation page.
Arts and Humanities Update
Napoleon and His Legacy:  Warfare, Politics, and Culture 
Dr. Lloyd Kramer and Dr. Maximillian Owre     Lunch and Lectures
Thursday, October 13, 2016
10:00 a.m. Walnut 101
$40.00 per person, includes lunch and lectures
Registration and payment required by October 7, 2016
October 13, 2016 will be an exciting day at the Foundation!
For the first time we are collaborating with the UNC Humanities Program of the College of Arts and Sciences  in order to bring a popular Adventure in Ideas seminar to the WCC campus. Popular professors Lloyd Kramer and Max Owre will interpret Napoleon's controversial life and career in order to address the questions that have interested people for 200 years: "Was Napoleon a genius or a tyrant?  Why does Napoleon have enduring influence?" Historians and writers have been fascinated by these questions as they examine Napoleon's influence on European culture and his impact on American history, the results of which we still see today in our modern political, military, and cultural history. Who was Napoleon and why does he remain important two centuries after Waterloo?
For more information and to register click here or contact the Foundation office at (919) 739-7017.
If you would like to familiarize yourself with Napoleon and his reign prior to the lectures we have compiled a suggested reading list.
We are happy to report that we had a very successful 24th Annual Scholarship Invitational, raising $176,000 all for student scholarships! This record breaking amount makes it possible for The Foundation to continue to help deserving students! We have been fortunate enough to host a Scholarship Invitational each year since 1992. Over the past 24 years the Scholarship Invitational has raised more than $1,600,000.00 for student scholarships. This year at the dinner auction Candace Jones, a former WCC student, scholarship recipient and Foundation work study spoke to those in attendance.
What's Happening Now
Foundation Videos