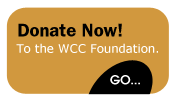 The Foundation of Wayne Community College is a nonprofit organization established to support the students, faculty, staff and programs of Wayne Community Community College. The purpose of the Foundation is to broaden the base of community support in order to promote the educational development of Wayne Community College.  To learn more about the Foundation and its history please visit the About the Foundation page.
Plans are in full swing for the 25th annual Scholarship Invitational!  The dinner and auction will be held on Tuesday, June 13 at 5:30 p.m. at Walnut Creek Country Club and the Golf Tournament will at Goldsboro Municipal Golf Course on Wednesday, June 14. Since the tournaments inception in 1992, over 1.6 million dollars has been raised all for student scholarships.  Please visit the Scholarship Invitational Dinner and Auction page for a list of live auction items.
Below is the touching story of Candace Jones who spoke at the 24th Scholarship Invitational.
What's Happening Now
Foundation Videos