The Foundation of Wayne Community College is a nonprofit organization established to support the students, faculty, staff and programs of Wayne Community Community College. The purpose of the Foundation is to broaden the base of community support in order to promote the educational development of Wayne Community College.  To learn more about the Foundation and its history please visit the About the Foundation page.
On Monday, April 25 we will welcome Bland Simpson and Jack Herrick of the Tony Award winning Red Clay Ramblers, whose work includes Diamond Studs, Hot Grog, Pump Boys & Dinettes, Fool Moon, Kudzu, and King Mackerel & The Blues Are Running.
Bland Simpson is Kenan Distinguished Professor of English & Creative Writing at UNC Chapel Hill and is the longtime pianist for the Tony Award-winning North Carolina string band, The Red Clay Ramblers.  He has written many books about eastern North Carolina, including Into the Sound Country, The Coasts of Carolina and his latest, Little Rivers & Waterway Tales.  In 2005, Simpson received the state's highest civilian honor, the North Carolina Award in Fine Arts.
Jack has served since 1979 as Artistic Director, Composer and Performer for The Red Clay Ramblers. He wrote the book, music and lyrics for the children's musicals Bah! Humbug!, Johnny and the Apple Tree, and Rip Van Winkle and the Legend of Sleepy Hollow commissioned and produced by the St. Louis Repertory Theater.
The evening will feature a variety of music, tall tales, and toe tapping! Join us at 7:00 p.m. in Moffatt Auditorium. The program is free and open to the public.  All of our Arts and Humanities offerings can be found by visiting the Arts and Humanities page.
The Annual Awards Ceremony was held on February 23, 2016. This event provides the opportunity for students and donors to meet. The Foundation awarded 569 scholarships this year.  That was more than $367,000.00 dollars invested in education by caring donors.
The Foundation staff and volunteers are currently working toward the 24th Annual Scholarship Invitational. The Foundation has been fortunate enough to host a Scholarship Invitational each year since 1992.  In 2015 the tournament raised a record $167,000, all of which went to fund student scholarships. This years invitational will be held on June 14-15.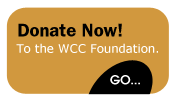 What's Happening Now
Foundation Videos