University Partnerships
---
East Carolina University Pirate Promise at Wayne Community College

Prepare for your future: join the Pirate Nation with Pirate Promise. This transfer program is for students who are in their first year of coursework at their community college to attend special events, receive advising assistance, and support before they apply to ECU.
Get these benefits:
Guaranteed admission to ECU with a completed associate degree (view a list of approved associate degrees)
Waived ECU application fee
A dedicated transfer coach
Joint academic advising
Joint financial aid counseling
Eligible to purchase an ECU 1 Card to get access to:

Athletic tickets
Campus recreation opportunities
Campus events
Library resources

Access to ECU Libraries
Access to Virtual Job Shadow, ECU Career Services' virtual workshop series
Participate in select campus activities including "invitation only" Pirate Promise events at ECU.
And much, much, more at Student Affairs
By participating you will have access to extensive resources geared to guide you through the transfer process at ECU.
Pirate Promise Spring Applications
The application for Pirate Promise will open March 1, 2023 and close on April 1, 2023.
Download the Pirate Promise information sheet. (PDF)
Learn more and how to apply at the ECU Pirate Promise page.
---
Fayetteville State University and Wayne Community College Partnership
The "$10K Degree Pathway" partnership gives WCC associate degree graduates the option of completing an online bachelor's degree at FSU at a total cost of no more than $10,000 in out-of-pocket expenses, or approximately $5,000 at WCC and $5,000 at FSU. Students eligible for federal and state grants will likely pay less than $10,000 out of pocket.
The plan opens the door for WCC graduates to pursue affordable bachelor's degrees in these programs at FSU: Accounting, Birth through Kindergarten (non-teaching), Business Administration (General), Criminal Justice, Fire and Emergency Services Administration, Intelligence Studies, Nursing (RN-BSN), Professional Studies, Psychology, and Sociology.
To view specific program requirements and to complete the letter of intent, please click here.
---
National University and Wayne Community College Partnership
Through our partnership with National University, WCC students can:
Transfer to a National University baccalaureate degree program following completion of a WCC certificate or associate degree program.
Apply for the Transfer to Success scholarship. The award will pay up to $5,000. Fifty percent of the award will apply to two courses within the first six months; with the remainder applied to the last two courses of the degree program.
---
The North Carolina Wesleyan-Goldsboro and Wayne Community College Partnership

Wesleyan Works is a transfer program designed for WCC students that are planning to continue their education at NC Wesleyan-Goldsboro. This pathway program guarantees admission for graduates who complete a degree in Associate of Arts (AA), Associate of Science (AS) or other Associate of Applied Science (AAS).
Students who participate in Wesleyan Works will have access to academic advising and financial aid counseling while attending WCC, as well as access to attend events on the NCWC main campus in Rocky Mount.
Program Overview:
Students can apply to a participating Community College and NCWC at the same time, granting a pathway for earning an Associate's degree and Bachelor's degree.
Students can apply to NCWC Office of Adult and Professional Studies with NO application fees.
Students are guaranteed automatic acceptance upon successful completion of the AA/AS/AAS degree from a participating Community College.
Students will be provided a NCWC Wesleyan Works student identification card and will have access to events on the NCWC main campus in Rocky Mount.
Students will have joint academic advising and financial aid counseling to maximize the savings offered when attending both participating Community College and NCWC.
Majors offered at NC Wesleyan-Goldsboro:
Bachelor of Science in Accounting
Bachelor of Science in Business Administration
with the option to add a concentration in Entrepreneurship
Bachelor of Science in Computer Information Systems
Bachelor of Arts in Criminal Justice
Bachelor of Science in Marketing
Bachelor of Science in Organizational Administration
Bachelor of Arts in Psychology
Bachelor of Arts in Political Science
Bachelor of Science in Religious Studies
View more information and specific program requirements on the Wesleyan Works website.
---
NC State – C3 Military Connect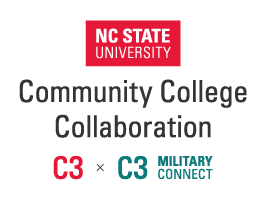 Through the Community College Collaboration (C3) Military Connect program, active duty service members, their spouses, dependents, and veterans will have predictable pathways from WCC to NCSU. It is open to students considering any major that NC State offers.
Students admitted into this program will be dual enrolled in WCC and NCSU. They will have access to services, academic advising, financial aid advising and planning at both schools.
While they are studying at Wayne, they will be invited to participate in programming that will help them build connections at NCSU and transition into study there.
High school seniors and current WCC students who have completed less than 30 credit hours of college work are eligible to apply.
---
University of Mount Olive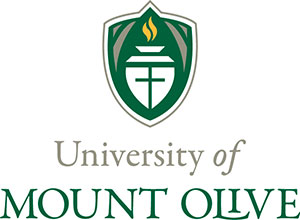 UMO Promise
The UMO Promise agreement allows a seamless transfer from specified WCC associate in applied science degree programs to the University of Mount Olive bachelor's degree programs.
Programs included:
Accounting and Finance
Agribusiness Technology
Animal Science
Business Administration
Criminal Justice
Early Childhood Education
Emergency Management
Human Services
Sustainable Agriculture
Turfgrass Management
UMO will accept up to 60 credit hours from these programs when the student has a minimum grade point average of 2.0 on a 4.0 scale.
Trojan Alliance Partnership
The Trojan Alliance Partnership with University of Mount Olive offers a tuition scholarship for all former WCC students. The tuition scholarship is applicable to all degrees offered by UMO.
View the flyer for eligibility requirements and program listing.
---
The University of North Carolina Pembroke and Wayne Community College Partnership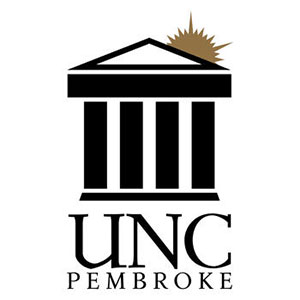 BraveStep creates a bridge to success for prospective University of North Carolina Pembroke students who begin their college careers at Wayne Community College.
WCC students who are selected for the BraveStep program transfer into UNCP after earning just 30 credit hours at WCC, but still obtain an associate degree from WCC.
Here's how it works:
UNCP selects participants from qualified applicants based on high school record and test scores on either the SAT or ACT.
The selected individuals begin their academic journey at WCC and transfer to UNCP after earning 30 credit hours.
Through the Reverse Transfer Program, BraveStep students use credits earned at UNCP to complete their WCC degree requirements.
BraveStep students are co-admitted to WCC and UNCP.
BraveStep students enroll in courses included in the Comprehensive Articulation Agreement in order to ensure transferability. Note: Only courses with a grade of "C" or better will transfer.
BraveStep students receive academic advising and support from both WCC and UNCP.
BraveStep students receive UNCP student IDs and be able to use UNCP resources, programming, and campus facilities during their enrollment at WCC.
BraveStep students can take advantage of guest lecture series and other co-curricular activities at UNCP.
UNCP is one of the three North Carolina universities (the other two are Elizabeth City State University and Western Carolina University) that are part of the NC Promise Tuition Plan, which sets undergraduate in-state tuition at just $500. All students are eligible for this tuition plan. Student fees, including the costs of room and board, are not included.
For more information, contact the UNCP Office of Admissions at 910-521-6262 or admissions@uncp.edu.
---
The University of North Carolina Wilmington and Wayne Community College Partnership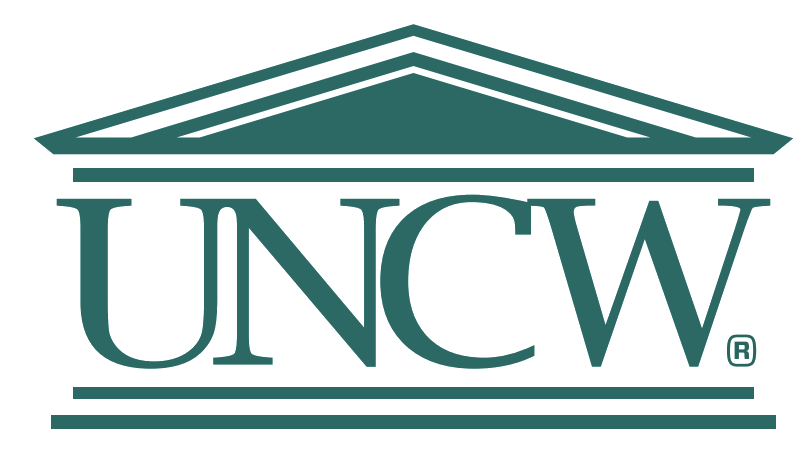 Wayne Community College and the University of North Carolina Wilmington have partnered to create a new program to enhance student success by assisting current WCC students with their enrollment into UNCW. The Pathway to Excellence Program is a pathway for guaranteed admission to UNCW for students completing an Associate of Arts or Associate of Science with a cumulative GPA of at least a 2.5 (on a 4.0 scale) in transferable, college-level coursework from Wayne Community College. Guaranteed admission to the university does not constitute admission to a professional school or specific program. Students entering the pathway will be expected to indicate their plan by submitting their Letter of Intent form to UNCW Transfer Admissions.
UNCW will provide a Transfer Student Success Advisor to meet with students at WCC at intervals throughout each semester at the community college, working in collaboration with community college advising staff to help students create a path of transfer and beyond.
UNCW will host WCC students annually in an Open House event. UNCW will provide an application event each spring on the WCC campus providing application fee waivers to students applying to transfer.
Students entering in under the agreement who have at least a 3.0 overall GPA will also meet the requirements of the UNCW Bilateral Articulation Agreement and receive the following benefits:
Considered to have fulfilled all UNCW's Lower-Level University Studies Requirements, with the exception of Foreign Language (as set forth in the UNCW Undergraduate Catalogue) as well as upper division and major specific general education requirements.
Be admitted to UNCW at junior-level status, provided all other conditions for admission are satisfied.
Contact the UNCW Admissions office for more information: admissions@uncw.edu
---
Western Governors University and Wayne Community College Partnership
WGU North Carolina

, an online, nonprofit, university, is demonstrating its continued commitment to increasing access to affordable education by establishing a partnership with Wayne Community College.
The institutions have signed an agreement that will provide WCC graduates and faculty with a five percent discount on WGU North Carolina's already cost-effective tuition of around $3,500 per term for undergraduate programs.
The partnership also includes the announcement of the Wayne Community College Partnership scholarship program, which provides up to $2,000 in scholarships to students interested in transferring to Western Governors University (WGU).
"Our partnership with WGU North Carolina is a couple of steps beyond the typical articulation agreement," said Dr. Thomas A. Walker Jr., WCC's president. "Not only does it enable Wayne Community College graduates to transfer coursework toward a bachelor's degree, but they may also receive a tuition discount and are eligible for scholarships. Its online platform puts dozens of degrees at students' fingertips and this agreement will make it easier for them to take that next step and earn a bachelor's degree."
Through this agreement, Wayne Community College graduates will utilize WGU's Transfer Pathways program to ensure each transfer student's associate degree aligns with WGU's baccalaureate major and degree program offerings. WGU North Carolina offers 60 undergraduate and graduate degrees in the high-demand fields of business, technology, education and healthcare, including nursing.
---
Wichita State University and Wayne Community College Partnership
This agreement between Wichita State University (WSU) and Wayne Community College (WCC) provides students who have completed the Associate of Applied Science, Dental Hygiene degree at WCC the opportunity to complete a Bachelor of Science in Dental Hygiene degree at WSU.
The Registered Dental Hygienist (RDH) to Bachelor of Science in Dental Hygiene (BSDH) degree completion program at WSU, offered completely online, is intended for students who have graduated from an accredited dental hygiene program and hold a current license in dental hygiene. To be eligible for admission, applicants must have:
An earned associate's degree from a regionally accredited school and a Commission on Dental Accreditation accredited dental hygiene program.

A minimum 2.5 cumulative grade point average.

A current dental hygiene license.
The RDH to BSDH degree completion program at WSU requires 32 total credit hours.
View the agreement for more details and a list of specific course requirements.