Public Safety
---
---
Through the Public Safety areas of Emergency Medical Services, Fire Services and Law Enforcement, training is provided to over 5,000 students and citizens per year for Wayne and surrounding counties.  With State and Federal regulations requirements in these areas, students are able to obtain jobs and advancements in their present employment.
Emergency Medical Services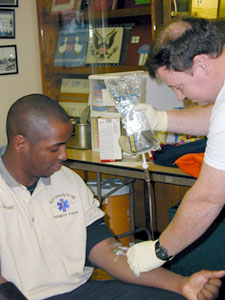 The Emergency Medical Service Programs are designed to provide certification in CPR, First Aid, Medical Responder, EMT (Emergency Medical Technician) and Paramedic. Continuing Education is available to rescue squads, ambulance services, fire departments, and law enforcement agencies. CPR and EMT re-certification classes are offered when needed, for renewal of certificates. Any of these courses are offered to interested citizens, business, industries, and church groups. Classes are held on campus, online, and throughout the county.
Fire Services
Wayne Community College offers a wide variety of quality  Fire and Rescue Training. Our programs include Fire Fighter I & II Certification Courses, NC Technical Rescuer, Rescue Specialties: Trench, Confined Space, Collapse, Ropes, and Water.  We offer Fire Officer, Fire Inspector, Fire/Arson Investigator, Emergency Vehicle Driver, Fire Apparatus Driver/ Operator, Hazardous Materials Responder, Instructor Methodology and various other non certification classes. These courses help Fire Fighters fulfill the requirements and the needs of their respective departments(both volunteer and paid), and help with fire service career development.  Wayne Community College is committed to delivering excellent classes through skilled instructors to ensure safe, innovative, and informative classes.
Law Enforcement Training
The Law Enforcement Training Programs are designed to train and upgrade personnel in basic law enforcement, detention officer, 911 Telecommunications, and firearms.  An extended effort is made to work with the various law enforcement departments throughout Wayne County.  From a pool of state and local instructors, the College is able to meet the training needs and desires of law enforcement within Wayne County. View our Basic Law Enforcement Training (BLET) schedule.
Credit for Prior Learning
Some Public Safety courses are transferable into credit in our Criminal Justice Technology and Emergency Management associate degree programs. Questions concerning Continuing Education credit should be directed to the Workforce Continuing Education Office of Admissions and Records or the Public Safety department.
Credit for Prior Learning information.
Contact Information
Beverly Deans, Law Enforcement/Public Safety Division Chair – (919) 739-6798
Doris Alston, Program Support Coordinator – (919) 739-6799
Kim Boswell, EMS Coordinator – (919) 739-6893
Angie Blizzard, Law Enforcement Training Instructor/Coordinator Public Safety – (919) 739-6803
Steve Mozingo, Fire Services Coordinator – (919) 739-6803